COLLECTION
Housing For All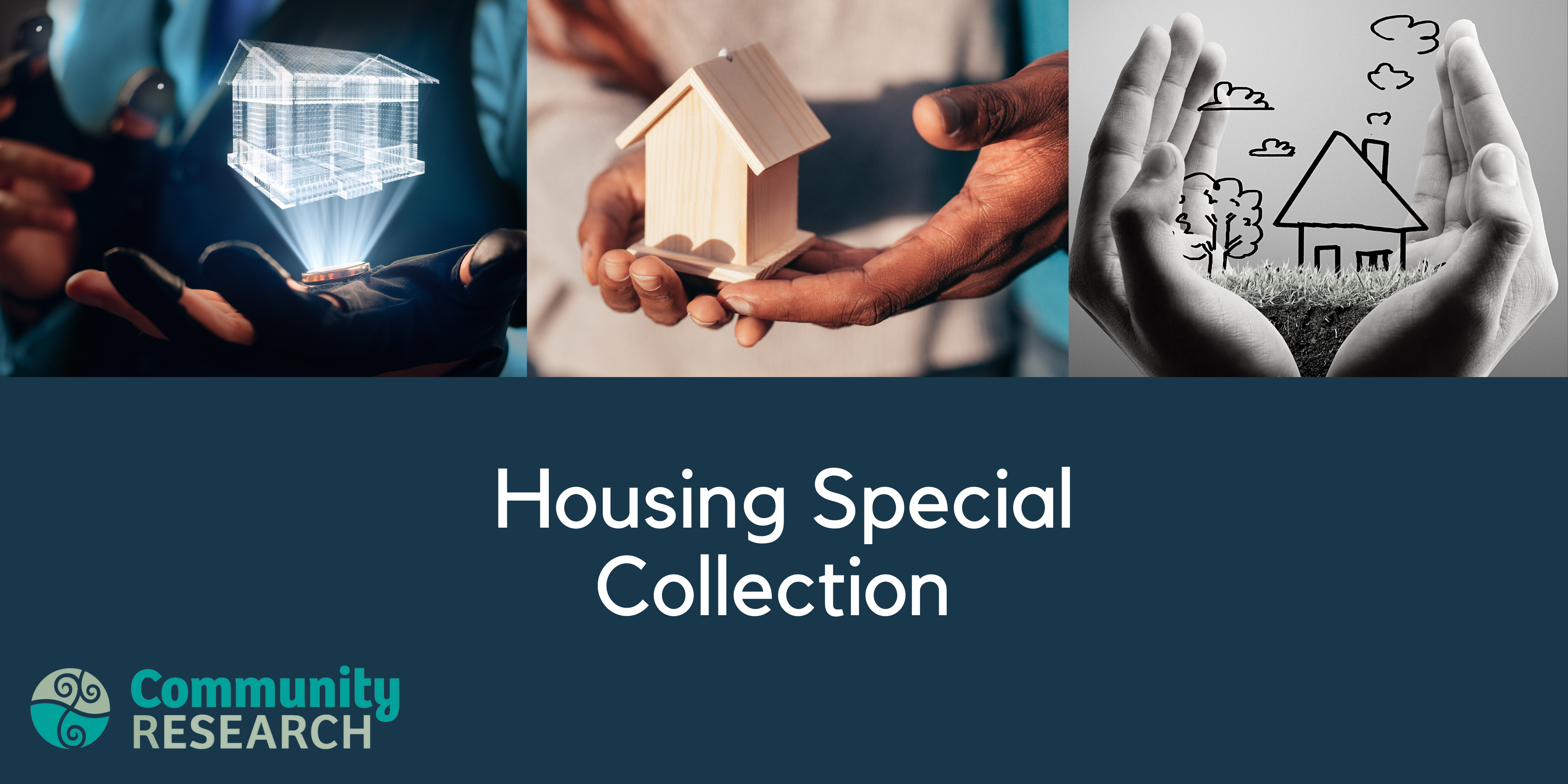 Housing for all
---
Community Research set out with an enquiry into creating a special collection of resources on housing in Aotearoa as a way to support and advocate for community researchers already engaged in this work.
The report gathers evidence on what currently exists in literature in the area of housing in Aotearoa and identifies the gaps in this existing literature.
The following themes are not the focus of any of the existing collections:
a) renting/tenancy (aside from older people)
b) lived experience and knowledge
c) homelessness/ houselessness
d) rangatahi housing.
In response to these findings, the Community Research Housing Special Collection is designed to bring together various housing research repositories into one, easy to use resource. In this collection you will find links to all of the significant housing research collections and community housing research from the Community Research collection, including the Community Research housing report.
Community Research collection of research reflects the need for not only academic research in the identified gaps of research-renting/tenancy, lived experience and knowledge of housing, homelessness/houselessness, and rangatahi housing research, that is more reflective of community needs.
We would like to acknowledge Lydia Carson, Gauri Nandedkar, and Janie Walker for their contribution to this work.
If you would like to add to this collection please contact us at admin@communityresearch.org.nz
---
Publicly accessible housing Research
Non-Government Funded Collections
Community Housing Aotearoa (CHA) is a peak body for New Zealand's community housing sector. Our provider members house approximately 35,000 people nationally across 18,520 homes. Our partner members include developers, consultants and local councils. Our Vision is to make sure every New Zealander is well-housed in a warm, safe, dry and affordable home.
Motu Research is an independent, public-good focused economics and policy research institute. We help Kiwi decision makers grapple with complex social and environmental issues. Motu's work on housing focuses on the interactions between housing and policy, in particular around the demand for housing, housing supply, housing regulation and housing affordability.
Ageing Well National Science Challenge aims to be a voice for ageing issues in New Zealand. Ageing Well responds to opportunities to share information with decision makers and co-funders… We work towards constantly improving our science communication and dissemination to ensure our work and its resulting impact is easily accessible to our various audiences.
This site is dedicated to people empowering older people's housing decisions. We all want a positive experience of ageing, to be valued and to live in the places we can feel connected to. The Good Homes research focuses on helping older people to have safe, healthy and affordable homes which protect them in good and bad times, so they can stay in their own homes and communities for longer.
This Challenge, hosted by BRANZ, is researching how innovation and technology can be better adopted by and embedded into the New Zealand building industry. Multi-disciplinary researchers are collaborating to create practical solutions that bring long-term transformational benefits for New Zealanders in how our homes, towns and cities function.
Housing and Health Research Programme, (2022, May). Publications & resources
Our interdisciplinary team researches a wide range of housing and health topics including housing quality, insulation, heating, energy poverty, sustainable energy and efficiency, indoor air quality, regulation and standards, tenants' advocacy, sustainable tenancy, injury prevention, homelessness, public housing, community housing, Māori housing, LGBTQI+ housing, Pacific housing, housing data, health and housing and housing wellbeing.
The Salvation Army has released its state of the nation report. They provide an overview of the availability of the housing, new builds and sale prices for housing from 2011- 2022.


---
Government Funded Collections
Tatauranga Aotearoa (2022, August)
This site contains the Statistics New Zealand's electronic and digitised publications which are not on our website. It also contains questionnaires, research and images. Stats NZ is a government department and Aotearoa's official data agency. They collect information and publish data. stats.govt.nz/topics/housing/ housing collection includes statistics on the number, size, affordability, and quality of homes in New Zealand. This library potentially acts as a digital archive to stats.govt.nz.
Te Pā Harakeke: Māori housing and wellbeing 2021
Pacific housing: People, place, and wellbeing in Aotearoa
Kāinga Ora provides tenancy services to nearly 200,000 customers and their whānau and owns and maintains nearly 69,000 public houses while also providing home ownership products and other services. We are focusing on prioritising our tenants' wellbeing, and provide tenants with good quality, warm, dry and healthy homes.
Shapes the strategies and work programmes for housing and urban development in Aotearoa New Zealand.
Alongside the Auditor-General's primary function of carrying out annual audits, we have the power to inquire in detail into issues of concern. This inquiry's function is discretionary. We receive many requests for inquiries each year and choose carefully which ones to investigate.
Te Puni Kōkiri is government's principal policy advisor on Māori wellbeing and development… Over many years our research work has helped inform us and others on the best ways to support Māori development.
---