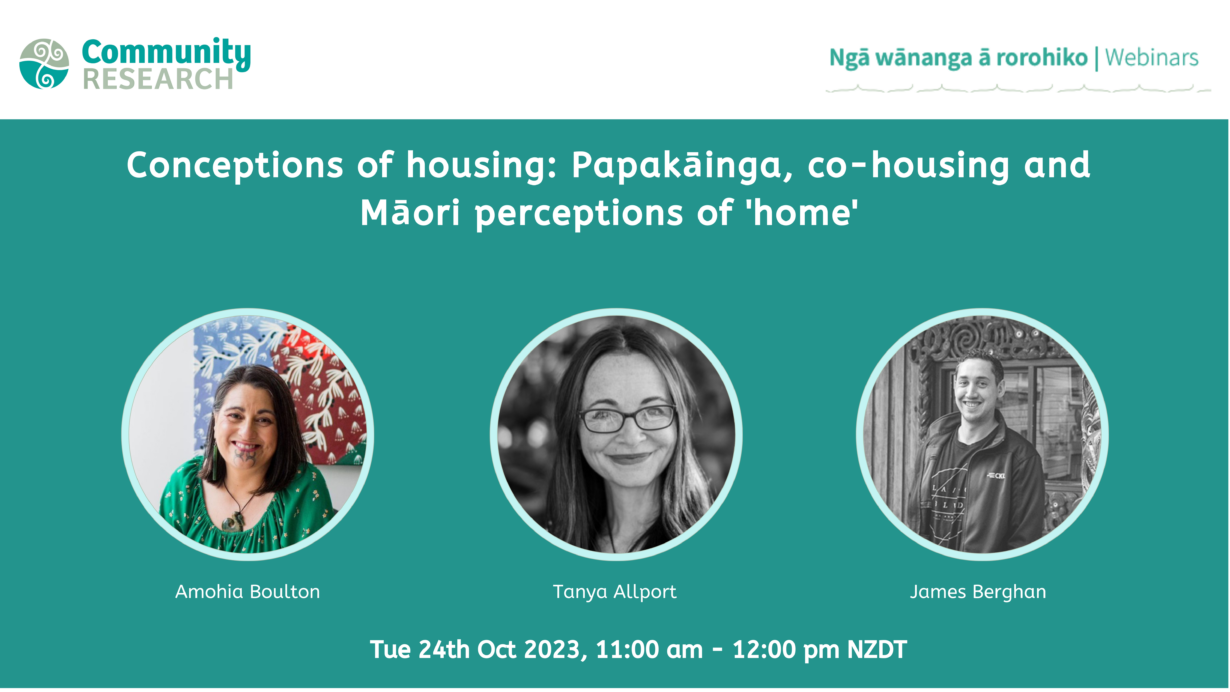 Community Research, Dr James Berghan, Dr Tanya Allport and Dr Amohia Boulton came together for a kōrero that explores their research on papakāinga, cohousing, Māori housing needs, and Māori perceptions of home. 
They discuss how co-housing offers private lived spaces but also is important in features such as shared gardens, collective outdoor family-friendly spaces and communal areas.
Dr Boulton discussed Whakauae Research Services' perceptions of the Papakāinga research project. Dr Allport spoke about the follow-up study called Tō mātou kāinga, tō mātou ūkaipō – Whānau conceptions of home: supporting flourishing home environments.
Dr Berghan shared his research on 'kaupapakāinga' and explored the potential for Māori co-housing.
We thank our panellists and our facilitator, Community Research Kaitiaki Joanne Waitoa for their time.
Biographies
Dr Amohia Boulton (Ngāti Ranginui, Ngai te Rangi, Ngāti Pukenga, Ngāti Mutunga and Te Āti Awa o te Waka a Māui), is the Director of Whakauae Research Services, a tribally owned and mandated health research centre in Whanganui. Dr Boulton's research focuses on the relationship between, and the contribution of, government policy to improving wellbeing outcomes for Māori. Her recent work has explored areas such as research ethics; Māori approaches to wellbeing (whānau ora); and the role of Rongoā Māori (traditional healing) in the publicly funded health system.  
She is currently leading a five-year, Health Research Council of New Zealand-funded programme of research entitled Kia Puawai ake ngā uri whakatupu: Flourishing future generations which seeks to identify the conditions necessary for a health system shift; a shift where resourced action is targeted to achieve equity of health outcomes for Māori.
Dr Tanya Allport is a senior researcher at Whakauae. With a background in Māori health and wellbeing research, Tanya has a passion for kaupapa Māori research, and research that effects positive change in the community. Tanya's whakapapa is to Te Ati Awa (Whanganui-a-Tara) from her father's side, and German from her mother's side. Spending her early childhood years living in Germany, Tanya returned to New Zealand to finish her schooling and attend the University of Auckland, where she gained her PhD in Comparative Literature, writing about a 'triple trauma' model in Māori and German literature. Tanya has worked in Māori health and education, Treaty of Waitangi research, and in urban Māori community research.
Dr James Berghan (Te Rarawa, Te Aupōuri) is a Senior Lecturer in Māori Designed Environments at Te Herenga Waka's School of Architecture. His doctoral thesis explored the critical success factors in developing urban papakāinga and cohousing communities as part of the Building Better Homes, Towns & Cities National Science Challenge. 
James is interested in the interrelationships between people and the built environment, broadly spanning indigenous development, affordable housing, collective housing, hauora, tactical urbanism, streetscapes and active transport.
Hosted by Joanne Waitoa ( Ngāti Porou, Ngāti Rakaipaaka), Senior Analyst/Advisor for the Ministry for the Environment. Joanne is also a tangata whenua caucus member from Community Research her background is in policy, research, education and Māori engagement.
Extra Resources
Research on our website: from Whakauae Research Services
Māori perceptions of 'home': Māori housing needs, wellbeing and policy
E hoki mai nei ki te ūkaipō—Return to Your Place of Spiritual and Physical Nourishment
Research on our website from James Berghan
Kaupapakāinga: The potential for Māori cohousing,

Past Webinar – "Housing Research: Challenges and Insights for Communities in Aotearoa"