COLLECTION
Learning From Christchurch
---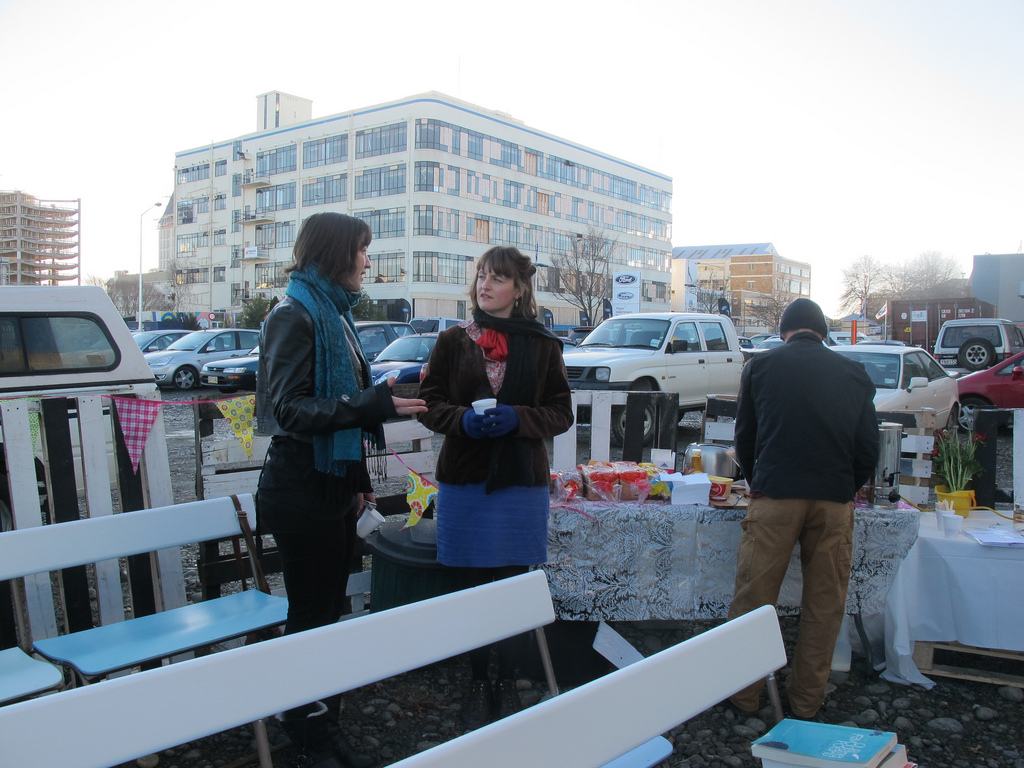 Photo credit: Christchurch City Libraries
In the aftermath of the devastating 2010 and 2011 earthquakes in Christchurch, this 2013 collection was collated by Community Research, Healthy Christchurch, He Oranga Pounamu, and the Christchurch Council of Social Services to document the extraordinary experiences and resilience of communities in Canterbury.
At every step along the way, people in communities and tangata whenua, community and voluntary organisations have been documenting and reflecting on their experiences. The resulting research includes everything from narratives capturing the personal aftermath, through to scholarly analysis.
This collection will be valuable to national organisations as they continue to deliver services and support staff, and also be of use as people consider their own natural disaster preparedness.

The collection focusses on research undertaken by, for and with communities, in ways that are consistent with Community Research's Code of Practice.
Topics can include anything that touches on the response of communities and community organisations.
Outside scope are items that are unduly:
Technical or focus primarily physical aspects of the natural disaster
Partisan, party political.

The contents of the "Learning from Christchurch" special collection is anything that people believe relevant to communities and the organisations that support them.
Children and Youth
Community Resilience
Demographics
Disability
Elderly and Retirement
Emergency Services & Disaster Relief
Environment
Grants, Funding, Contracts & Fundraising
Health/ Wellbeing
Housing & Homelessness
Immigrants, Refugees & Migrants
Māori
News and Media Coverage
Non-profit Sector
An Inventory of Community-led and Non-governmental Organisations and Initiatives in Post-earthquake Canterbury, Carlton, S. and Vallance, S. 2013. Lincoln University. (Uploaded to Community Research)

Glimpses of a better world: The role of tangata whenua, community & voluntary sector in the Canterbury earthquake recovery, by Garth Nowland-Foreman for Council of Social Services in Christchurch (Uploaded to Community Research)
Ministry of Social Development Summer Scholarship Report for Family and Community Services, Canterbury (PDF 3.29MB), nine papers prepared by senior University of Canterbury students on MSD summer scholarships, March 2013
Supporting Community Resilience In Post-Quake Christchurch (PDF 225KB), by Sharon Torstonson, Council of Social Services in Christchurch, and Michelle Whitaker Healthy Christchurch, July 2011 (Uploaded to Community Research)
ANZTSR 2014 Third Sector Organisations and Earthquake Recovery Planning in Christchurch, New Zealand Hutton, N.S., Tobin, G.A., & Whiteford, L.M., (2014). Paper presented to ANZTSR 2014 Conference.
Volunteering & Mahi Aroha
Women
Featured research
Thanks to our partners
Community Research collected these resources in conjunction with Healthy Christchurch, Council of Social Services