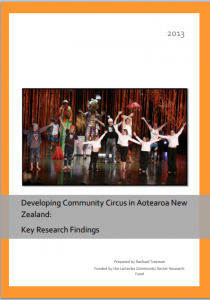 What is community circus, who is it for, what comes out of it and how can it be developed? These questions were the focus of a research project conducted from 2011 to 2013. Funded by the Lotteries Community Sector Research Fund, the project was initiated by Frances Kelliher and Thomas Hinz as a partnership between Circus Kumarani in Dargaville (www.circuskumarani.co.nz) and Auckland based researcher Rachael Trotman, with assistance from Alex Woodley (www.pointresearch.co.nz).
The research used five interrelated research methods.
• A nationwide online survey of community circus related organisations and
individuals.
• An international literature review.
• Stakeholder interviews with 17 key players nationally and internationally.
• A workshop with 30 practitioners at the Auckland Circus Convention.
• Four case study evaluations of disability, school, preschool and high
achiever projects in Auckland and Dargaville.
They define a community circus as: a social art form that uses circus skills to promote personal and social development.
"Community circus is not for everyone but engages significant numbers of people worldwide. It offers a healthy alternative to traditional sport, art and recreational pursuits in New Zealand, can engage reluctant exercisers and hold special appeal for the young and the marginalised."
They outline the benefits and impacts of community circus, what good practice looks like and discuss evaluation of community circus.
They suggest two ways that community circus can flourish in New Zealand:
Support gifted people and existing organisations to excel
Develop infrastructure to support circus activity from local to national levels
Download the paper here.