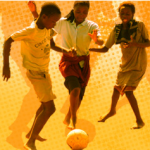 Dr Holly Thorpe, Senior Lecturer for the Department of Sport and Leisure Studies at the University of Waikato, highlights the role of sport in helping communities to recover from natural disasters:
"This study is among the first qualitative examinations of the effects of natural disaster on residents' everyday sporting practices. For the Christchurch residents in this project, beaches, indoor skate parks, and bouldering routes became "therapeutic landscapes"—their sporting participation in these spaces helped some escape (if only temporarily) from the stresses of daily life."
Dr Thorpe talks about the reason for undertaking this research, her processes, research from other countries and the results of her study.
The article, adapted from a presentation Dr Thorpe gave to the New Zealand Embassy in Washington D.C. in December 2012, is available here.