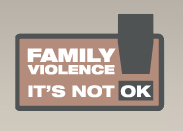 Prepared by Point Research Ltd. for Centre for Social Research and Evaluation. Te Pokapū Rangahau Arotake Hapori
A great piece of research around a strengths-based approach to seeking, receiving and/or giving help with family violence. Identifying conditions that encourage help giving and receiving, particularly to understand what motivates someone to take action to prevent or stop family violence.
This report begins by contexualising family violence in New Zealand:
"Family violence is a significant social issue in New Zealand. It is estimated that one-in three women has been the victim of domestic violence (Fanslow & Robinson, 2004). Between 2000 and 2004, 56 women, 26 men and 39 children under the age of 17 were murdered by a family member (New Zealand Family Violence Clearinghouse, 2007). In 2005, the New Zealand Police recorded more than 60,000 offences and non-offence incidents involving family violence, at which over 62,000 children and young people under the age of 17 were present or involved in some capacity (Standards New Zealand, 2006). Despite this, many thousands of cases go unreported; Police estimate they only see only 18 per cent of all violence within homes (New Zealand Family Violence Clearinghouse, 2007). The economic cost is estimated at between $1.2 and $5.8 billion each year (Snively, 1995)."
The report's key findings were:
Effective support increases the victim's and the perpetrator's belief in self and sense of agency
Readiness to receive help is important for both victims and perpetrators
In a crisis, effective help is noticing and acting. Failure to recognise that violence is occurring is one of the primary obstacles to intervention
There is currently a disjuncture between help offered and effective help
Social supports fail where whānau, family, friends and communities:

tolerate violence
withdraw or ignore violence
blame the victim for the violence.
Positive change happens when someone offers effective support
To read the full report, click here.
To 'like' the It's Not OK Campaign Facebook page, click here.