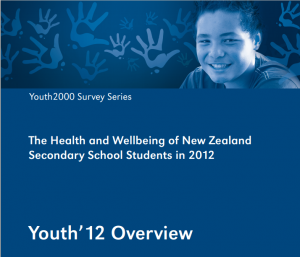 This latest national survey, completed in 2012, is the third in this series and is complemented by surveys with students in Alternative Education and Teen Parent Units, and with school staff. Together they paint a rich and compelling picture of the health and development of young New Zealanders from across our country and across diverse communities and ethnicities.
Some key findings include:
marked reduction in tobacco, alcohol and drug use by young people

schools are improving support systems for students to keep them engaged in education
caring and supportive families
reduction in risky driving behaviours
high numbers of young people who are emotionally distressed and bullied
high numbers of young people are exposed to violence
high numbers of young people are overweight
The report looks into the following areas, comparing the results back to 2001 and 2007:
Culture and Ethnicity
Home and Families
School
Health and Access to Healthcare
Nutrition, Exercise and Activities
Substance Use and Gambling
Gender Identity Sexuality and Sexual Health
Community and Contribution
Motor Vehicle Risk Behaviors and Violence
Download the report here.