"We're in a strong space as researchers and evaluators to help the real work that's going on on the ground. Evaluation on its own is not a means to an end, it's a mechanism to help and support the real work [which is what is happening through these community organisations]…..What brings us to this work is that if we forget about those people then we become part of the problem."
Kirimatao Paipa has been doing research and evaluation for the past ten years, with a primary focus on Kaupapa Māori. She is currently based in Auckland and is working as an action researcher with three Whānau Ora collectives in Auckland and Hawke's Bay. The collectives provide social services to both Māori and Pasifika, through different initiatives and services. These collectives are:
Te Kupenga Hauora Trust, Napier
Te Whare Maire o Tapuwae, Wairoa
The Project: Pacific Island Safety and Prevention Project Inc., Auckland
I managed to catch Kirimatao for a phone interview last week and got to hear about her current work – the methods and approaches she uses, what motivates her, and how important it is to support community-based initiatives that are working with whānau. Depicted below (in the centre) with colleagues Kataraina Pipi (Left) and Vivienne Kennedy (Right).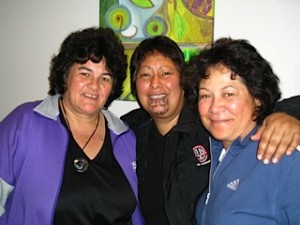 Methods
When asked about the different methods that she uses in her work, Kirimatao commented that there are many and they usually vary depending on the context she is working in. Te Reo Māori (the Māori language) and Tikanga Māori (Māori customs and protocols) are knowledge bases she draws upon in all aspects of her work. As she says, "…in order to engage in these spaces you have to be comfortable as Māori in your own skin." With regards to her work within a Pacific Islander context she says, "[I am] very aware of my place politically as a relation within that space, so I go in as a relative or whanaunga, and as indigenous to this land or tangata whenua."
Working within Whānau Ora
"I see that research and evaluation is the support [base] to the real work with our people. I see it as a bit of a privileged space to be in, because we're not working on the front line but we can support that front line in a lot of ways."
At the moment she is working on an evaluation to do with Māori and Pacific education for the ASB Community Trust. Part of this work is feeding back to the ASB Community Trust trustees and founders on whether the projects they're funding are successful.
Working as an evaluator and researcher who specialises in Kaupapa Māori projects, Kirimatao sees the different providers and community groups utilising the funding they get in very innovative ways in order to provide assistance for whānau. This, she says, is essential work as there are "whānau who are in desperate need of assistance, even if just for a short period of time." Te Kupenga Hauora Trust, as an example, works as a Whānau Ora service provider, focusing on whānau health and well-being.
"We've talked to a range of whānau and a range of service providers that work alongside [whānau]. In all respects the whānau really benefit from having these providers in their lives for the short periods that they're there for them."
Kirimatao commented on the value that she finds in working alongside positive change; "…these providers [form] an essential service to either bring [whānau] back from the point of crisis or to stop them [from] falling over." Being able to translate the voice of these groups to the funders' ears in a supportive and honest way, she says, proves to be very satisfying.
Advice for researchers working with whānau
"Just be genuine and authentic. Be Māori; don't suspend your indigenous self or Māoriness to be anything else. Be caring, the aroha that you bring is responded to. Know what you're doing, whānau and providers value clarity, honesty and good communication. Know your boundaries within other peoples spaces."
Ka tika ki muri, kia tika ki mua
Contributed by Aneta Cram