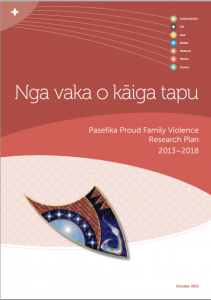 This five-year plan focuses on establishing a comprehensive and systematic body of knowledge on Pasefika families and family violence, strategically supporting national family violence and cross-sector Pasefika initiatives, and clearly defining research priorities for investment.
The key areas of focus are Pasefika knowledge generation, service delivery and workforce development.
The Nga Vaka o Kāiga Tapu: Pasefika Proud Family Violence Research Plan of Action will follow in due course, which will demonstrate how the research direction of the Pasefika Research Plan will be implemented.
This document provides background on the Taskforce for Action on Violence within Families, the Pacific Advisory Group, Nga Vaka o Kāiga Tapu and Falevitu, Family and Community Services, and the Pasefika Proud Programme of Action (POA): 2008–2012.
It also provides an overview of the purpose, scope and priorities of the research plan.
The research plan is available here.