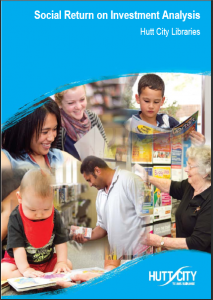 Social Return on Investment analysis: Hutt City Libraries
Utilising the Social Return on Investment model, Hutt City Libraries sought to estimate the monetary value that their nine libraries provide for their community. In addition to finding this value, they also aimed to examine opinions about how libraries benefit the wider community and what the benefits are to both users and non-users. They also sought to identify issues or trends in library use and non-use.
The findings include an estimate of the economic benefit they return for the investment by Council into the library – between $1.27 and $1.44 for every dollar invested.
"A Social Return on Investment approach estimates the value of both the tangible and intangible benefits of facilities such as libraries, assigning a monetary value that aims to represent their full benefits and make a powerful case for funding services that provide value to their communities beyond what can be measured in the balance sheet." P5
The study used a combination of the Willingness to Pay method (respondents place a value on the library services, as if they weren't funded through Council rates), the Financial Savings method (what they might have paid for the books, materials and services instead of receiving them from the library) and the Travel Cost method (costs incurred in getting to the library and time spent in the library).
"On average, respondents were willing to pay $51.69 per annum to maintain library services." P9
Part of the survey was to find how libraries impact on cultural development, community and personal benefits. The most important contributions were found to be the maintenance of relevant collections, the contribution to hobbies and life-long education as well as being safe and pleasant places to visit. Capturing local history for future generations was also found to be an important contribution by libraries.
Find the full report here.