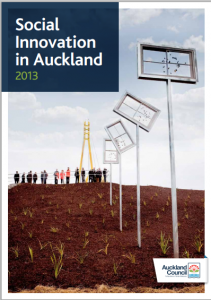 The report, Social Innovation in Auckland (2013), has been released by the Research, Innovation and Monitoring Unit – Auckland Council.
"The two types of innovation – innovation targeted at solving social problems and commercially driven science and technology innovation – need not be mutually exclusive."
This report provides an overview of some of the social innovation occurring in Auckland. It discusses:
Community Housing
Young People
Community Development
Whānau Development
Philanthropy
The report concludes:
"If we want lasting solutions to our toughest social, environmental and creative problems, rather than just the short-term management of them, New Zealand needs to innovate. This is what social entrepreneurs do best."
Find the report here
On page 58 they profile two Auckland social innovation conferences:
One that took place in March this year: SOCANZ 2013 – Innovation Conference -Find some key learnings here
Social Innovation and Entrepreneurship Conference
Massey University, 27-9 November
'Blurring Boundaries, Transcending Barriers' – captures the fluidity and flexibility essential for collaborative action and novel thinking in this emerging scholarly field
Paper submission is now open. Please refer to the call for papers for further details.
Find more information on the New Zealand Social Innovation and Entrepreneurship Research Centre's site.