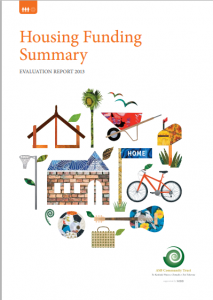 Housing Funding Summary: Evaluation Report (2013)
In 2008, in response to a growing number of requests from the community for grants for housing projects, ASB Community trust (the trust) commissioned external research into the new Zealand housing sector.
"One of the key research findings was that housing is a core factor in the health and wellbeing of families and the development of strong communities. the report stated, "it is widely documented that the negative effects of substandard housing and instability of tenure impact on mental and physical health of individuals and ultimately undermine healthy communities." 1
In 2010, they offered $1,952,654 between seven organisations. In 2011, they offered $1,440,000 between four organisations. The second round recipients received more intensive capacity development support than the first.
This report provides an overview of the social housing sector as well as an overview of the fund recipients.
Find the report here.