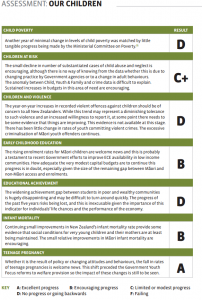 The 2013 State of the Nation report, She'll Be Right, from the Salvation Army has been released.

"The 2013 State of the Nation Report identifies a mixture of success and failure in New Zealand's social progress over the past twelve months. While the report identifies significant positive progress in areas of pre-school education and crime and punishment, the performance in the areas of housing, child poverty and youth employment have been less than satisfactory."
As the assessment card on "Our Children" to the right suggests, there are mixed results.
To download She'll Be Right and watch a summary video of the launch of the report, click here.