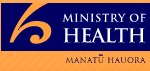 This is the first published* report on the performance of general practices in Whānau Ora collectives. It reports on results from the HealthStat software package, which collects an anonymous summary of patient health information from general practices in Whānau Ora collectives.
The report includes results for key HealthStat indicators identified by the Ministry of Health, Te Puni Kōkiri, and Tumu Whakarae (DHB Māori Managers) as strongly associated with morbidity and mortality for Māori.
"General practices in the Whānau Ora sample showed improving performances across a number of indicators in the year ended 30 September 2012 compared to the previous year.
Improving performances include:
• smoking cessation advice up 27.0 percent (20.8% to 47.7%)
• CVD risk recorded up 13.8 percent (39.7% to 53.5%)
• diabetes annual reviews up 7.6 percent (60.3% to 67.9%)."
Download the report here.