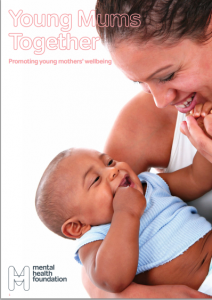 A new report from the Mental Health Foundation (UK) has been released about a project to develop a group for young mothers that would facilitate their access to mental health services and practical support.
There is a high rate of teenage mothers and a wide gap in the services offered to them. They are at a higher risk for postpartum depression – which is associated with feelings of isolation and low self-esteem.
The group met weekly for two hour sessions that included discussion, activities, outings or guest speakers. Through this programme, the young mums also accessed other social services (such as budgeting and mental health support).
Through interviews with five young mothers, they were able to categorize the support needs of young mothers' into five themes:
1) peer support
2) adjustment to motherhood
3) accessing professional support networks
4) mental health support
5) confident parenting.
The young mothers indicated their support needs could be met within one local service, which could act as a base to access further support and information.
The report offers practical strategies for engaging young mothers, who can often be afraid of seeking support.
The Young Mums Together Report is available as a free download here.
The Young Mums Together Guide: A Guide to Running Services for Young Parents is available here.