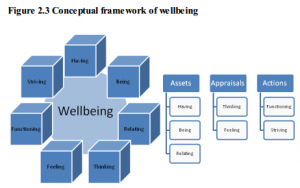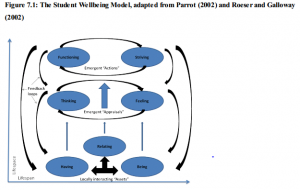 What does it mean to be well in schools? An exploration of multiple perspectives on student wellbeing in a New Zealand secondary school context.
A thesis by Anne Kathryn Soutter, University of Canterbury
Despite recognition that wellbeing and academic achievement are compatible educational goals, few education systems have clearly established how wellbeing can be meaningfully and purposefully implemented in educational experiences.

The overarching aims of this thesis were to examine the relationships between wellbeing and senior secondary educational experiences, to develop a conceptual framework based on an extensive, multi-disciplinary literature review, to refine the framework through document analysis and experimental study, and to propose a model of student wellbeing that could support both researchers in the development of indicators to monitor student wellbeing and educators seeking to plan for and assess wellbeing-enhancing educational experiences.

This is a beautifully written piece on a previously underexplored subject.
Find the report here.