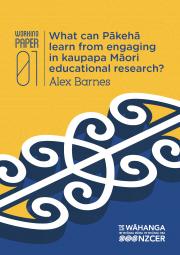 Te Wāhanga, New Zealand Council for Educational Research, has just released a working paper titled 'What can Pākehā learn from engaging in Kaupapa Māori research?'.
"For Māori, this inquiry offers an account of how Pākehā are working with 'their own' in order to advance socially and culturally just research methodologies in education" (p.2).
Written by Te Wāhanga kairangahau Alex Barnes, this paper offers a look at the discussions and debates about whether Pākehā can and should conduct Kaupapa Māori research, and what this research can and has looked like. Alex examines the research work of four Pākehā researchers engaged in various Kaupapa Māori work since the early 1990s.
"My qualitative inquiry seeks to unsettle taken-for-granted Eurocentric notions of research… These are important sites of learning and transformation because these experiences can help offset Pākehā paralysis in the 21st century, and create new ways to meaningfully engage with diverse Māori on critical educational issues" (p.3).
For a free copy of this paper click HERE