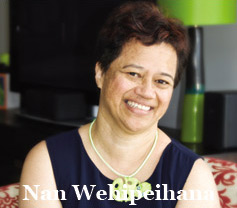 "A Vision for Indigenous Evaluation" was the title of a keynote address by Nan Wehipeihana at the 2013 Australasian Evaluation Society Conference, in Brisbane, Australia.
The theme of the conference was "Evaluation shaping a better future: Priorities, pragmatics, priorities and power". Nan put forward a framework for reflecting on evaluation practice, as a means of increasing participation and control by Indigenous peoples and communities in evaluation.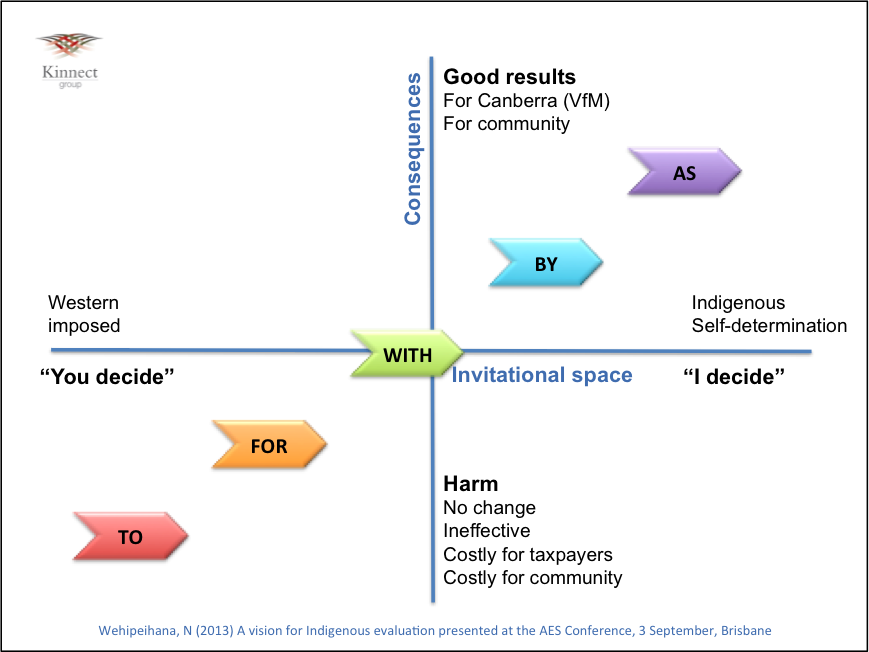 The horizontal axis is a power and control continuum. The far left relating to Western evaluators, perspectives and worldviews prevailing and the far right where Indigenous peoples, values, traditions and worldviews prevail.
The vertical axis is harm and consequences continuum. The top relating to positive outcomes and good results and the base depicting harm and negative consequences.
Evaluation done TO: Indigenous peoples is where all aspects of the evaluation are determined managed and controlled by non-Indigenous peoples – Western worldviews prevail.
Evaluation done FOR: Indigenous peoples is done with good intentions, and where control and decision making still largely reside with non-Indigenous peoples often with some token reference or inclusion of Indigenous values and perspectives- Western worldviews dominate.
Evaluation done WITH: Indigenous peoples is a continuum within itself. Notions of power sharing and control reflect the location and prevalence of worldviews – to the left engagement is located largely within Western traditions and to the right engagement is largely located within Indigenous traditions.
Evaluation done BY: Indigenous people see Indigenous people largely in control of the process, but also accommodating Western values and notions of credible evidence.
Evaluation done AS: Indigenous peoples is where Indigenous peoples lead and are in control and Indigenous values, principles, approaches and methods prevail. It does not exclude Western methods but only as far as they are seen to be useful. Involvement of non Indigenous people is by invitation only.
The framework invites evaluators to reflect on their evaluation practice as a way of increasing participation. Originally developed as a framework to increase participation by Indigenous peoples, it can also be used as a tool to reflection on practice with all evaluation participants.
Achieving a vision for Indigenous evaluation "has to set out ways to proceed through a colonizing world. It needs radical compassion that reaches out, that seeks collaboration and that is open to possibilities that can only be imagined as other things fall into place" (Linda Tuhiwai Smith, 2012, Decolonizing Methodologies: Research and Indigenous Peoples, p.xii).
Post the AES Conference Nan has titled this framework: Locating Evaluation Practice: Evaluation as an expression of power, control and consequences.
Links:
Nan Wehipeihana AES Keynote presentation slides