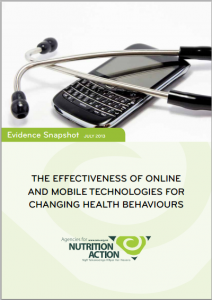 The Knowledge Translation Project aims to help translate health promotion evidence into action. It is a project of The Agencies for Nutrition Action.
The report begins with an outline of the research approach (Chapter 2). This is followed by an overview of online and mobile technologies and their use by New Zealanders' (Chapter 3). Chapter 4 outlines the key benefits and opportunities of using online and mobile technologies for health behaviour change and profiles three New Zealand programmes that use these technologies. Chapter 5 presents findings from systematic reviews, meta-analyses and other reviews relating to the effectiveness of online and mobile technologies for achieving health behaviour change. Chapter 6 summarises key lessons for the use of online and mobile technologies in health promotion, including research and evaluation considerations.
Internet-based interventions can have small but significant positive effects on behaviours such as physical activity, diet, weight management and smoking cessation (Cugelman et al., 2011; Webb et al., 2010).
Find the Literature Review
Find the Evidence Snapshot
They also have other resources available here.