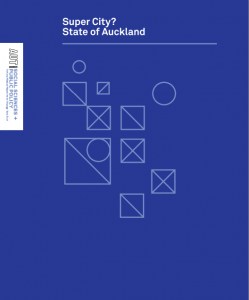 This paper analyses whether the consolidation of Auckland's Cities into a "super city" three years ago has been a success, a disappointment or something in between. It examines various areas of living:
People and Communities
The Economy
Democratic Participation
The State of the Built and the Natural Environment
Transport and other Infrastructure
Public Services
Confidence in Governance
Value for Money
It also found in an online survey of Auckland residents (commissioned by AUT in April 2013) that the most pressing current and further issues were public transport, law and order, health, housing availability, the economy, and population growth/sustainability.
This paper analyses the consolidation phase of the project and lays the groundwork for the AUT research project team to continue a programme of monitoring and evaluation.
Some key findings include:
The Aucklanders surveyed are still unsure whether the governance reforms have benefitted the region or their local community
Although Auckland households have substantially higher incomes, Aucklanders feel slightly less affluent than other New Zealanders
Nearly one in five Aucklanders did not visit a general practitioner (GP)/ doctor when they wanted to in the previous year, mostly because of cost.
Reported rates of crime are steadily decreasing. Slightly fewer Aucklanders reported they were victims of crimes compared to residents in other New Zealand cities.
There are few Máori elected representatives on Auckland Council and approximately five percent only on local boards.
The unemployment rate for Auckland was 7.3 percent in the March quarter 2013, double that of five years ago.
Ninety-five percent of Auckland children starting school have previously attended ECE
The vast majority of Auckland residents, 91.5 percent, report high ease of access to local facilities
Aucklanders are moderately satisfied with the quality of roads and footpaths.
Find the paper here.