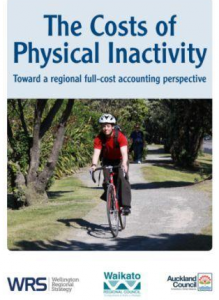 There has been a lot of research into the effects of a lack of physical inactivity on people physically and mentally, now this report talks about the economic cost.
"Physical inactivity is a serious public health issue in New Zealand, as it is in many other countries of the world, causing significant economic costs.
Local government plays an important role in motivating and providing for people's physical activity, including:
providing transport infrastructure
active transport opportunities (cycling, walking, public transport, walking buses)
urban design and land use planning, and
provision of parks and sport and leisure facilities.
Waikato Regional Council, Auckland Council and Greater Wellington Regional Council jointly commissioned a study to examine the full costs of physical inactivity in their regions.
The study undertaken by Market Economics found that the total cost to the country of approximately half the population not having adequate physical activity, was approximately $1.3billion in 2010 ($106 million for the Waikato region, $402 million for the Auckland region and $141 million for Wellington)."
Read the report here