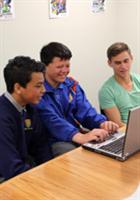 This paper looks at the experiences that Māori male rangatahi have had within the education system and with NCEA Level 1. The research was commissioned by Te Puni Kōkiri in order to gauge an understanding of what aids and what hinders educational achievement for young Māori men.
The objectives of the research are to:
identify barriers that contribute to disproportionate numbers of rangatahi disengaging from secondary school
identify ways in which rangatahi, wh

ā

nau and teachers can work together to reduce barriers to disengagement
explore the experience of rangatahi who experience success in Level 1 and identify the key factors that have enabled their achievement, including the roles of teachers and wh

ā

nau. A key driver of this research is that Te Puni K

ō

kiri is seeking to identify opportunities to improve the levels of engagement of rangatahi in secondary school and accelerate achievement levels so that more rangatahi may progress onto further education and training and ultimately into more skilled employment.
For full access to the report, visit the Te Puni Kōkiri website.