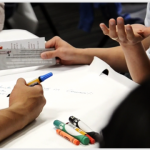 This discussion piece by Megan Thomas provides an Aotearoa New Zealand perspective on Collective Impact. See also our Collective Impact resource page
The complexity of the problems we need to solve in our society -whether social, economic or environmental- require new ways of working. They cannot be solved by standalone organisations or initiatives. Dealing with this complexity and multi-party approach is at the heart of collective impact.
The Collective Impact model requires partners from the community, government and private sector to come together and systemically align their goals and efforts around a shared vision and agenda.
It is exciting to see the interest and talk about Collective Impact in New Zealand grow in recent months. Just over a year ago when working on a project for ANGOA (looking at the contracting environment between government and NGOs), I became increasingly interested in the Collective Impact model developed by FSG in the United States.
Here we have a model that was beginning to demonstrate real change to complex social issues. Was this the framework that could be used to bring government, community and philanthropy together in New Zealand to achieve real impact? Are we at a tipping point to be brave, leave our own agendas behind and embrace a truly collective approach to our work?
The current government's approach is to set some ambitious targets focused on addressing some of the more complex issues in our society. The Better Public Services programme aims to encourage government to innovate, introduce new models and work more closely with others to achieve goals.
To support the programme there is a move to focusing on results and using data to understand the results we are achieving. This approach is well-aligned to a collective impact model – clear targets, good measurement systems and big issues that will require many parties working together to achieve results.
Some government work programmes have had a strong focus on working together such as:
Strengthening Families where multiple agencies working with a family from Work and Income, police to social service organisations meet together to develop a plan with the family.
Whānau Ora is another example where multiple organisations have come together to deliver whānau outcomes.
Another flagship of MSD currently underway is the social sector trials. The social sector trials involve distribution of funding for youth programmes to one pool in a region and organisations working together to deliver coordinated youth programmes.
Across the community sector organisations have developed many diverse collaborative practices of working. These have often evolved from a client centric model where one organisation is unlikely to have all the solutions for a client and it takes many agencies working together to get the required result.
Some of these practices have evolved out of the government programmes mentioned above, others have been focused on strengthening the voice of different sectors. The only example I know of where the Collective Impact model is being directly referred to as their model of practice is the Shine project. Shine, is a community led initiative to improve education outcomes for young people in Porirua, using the Collective Impact model as the framework for their working together.
Philanthropic trusts are also recognising the need to encourage new ways of working together. The Working Together More Fund is a good example where multiple philanthropic funders have partnered together to offer a fund focused on community organisations working together. The Todd Foundation has also supported the development of the Collective Impact model through funding Shine.
The examples outlined above show the time is right. Both community and government understand the challenges they are facing can only be responded to by working together. A real desire exists to change social outcomes for the better.
In an environment of limited resources and increasing social challenges, new ways of working are essential. We have all been trying and using different ways of working together for many years. However often these efforts begin in our isolated silos, rarely have common measurement systems and lack core funding.
What the Collective Impact model gives us is a framework, which if fully adopted and funded, will help see our collective efforts achieve success. This lack of framework in the past has often resulted in more talk than action and disheartened endeavours that lose momentum before seeing real results.
Bringing multiple parties together is never easy. To help make this work we need to invest in:
Leadership skills that support collective working;
Building our collective impact model knowledge and tools;
Bringing all parties together to define the problem based on good research and analysis;
Developing common evaluation systems;
Backbone infrastructure to facilitate the collective parties.
Also essential to making this work is ensuring our funding systems are aligned to the Collective Impact model. This involves funders to be at the table, contributing to understanding the problems and aligning funding to the issues to be solved rather than individual programmes. Funding must be outcomes based and aligned to the Collective Impact measures.
It is important to remember that Collective Impact is more than a model; it is a new way of doing business when dealing with complex issues. It re-engages participants to innovate together, to find solutions to complex problems and continuously evaluate and learn over time.
Collective Impact is not a silver bullet but rather a sustained process that merges intentionality (a common agenda) with emergence (that unfolds through collective seeing, learning and doing).
I look forward to seeing leaders in Collective Impact emerge in all sectors. May we find our space together and be ready to let go of many of our own agendas and approaches to let the right collective approach emerge!
About the author
Megan Thomas works with community organisations to innovate, design and build strong purpose-led organisations whose people, structure and systems are resilient and fit for purpose. Megan is a planning a two day intensive workshop (19/20 November) focused on developing collective impact leadership skills and tools to help you get your initiative underway. www.kolthoffthomas.com