Kia ora tātou! (Greetings one and all)
My name is Kataraina Pipi, (Ngāti Porou/Ngāti Hine). I am the Co-Chair of the Tangata Whenua, Community & Voluntary Sector Research Centre, a self employed Facilitator, Researcher, Evaluator and Composer. I am involved in a range of evaluation work in the health and social services areas and also work as an Action Researcher alongside two Whānau Ora Provider Collectives, Te Kotahitanga, in South Auckland and Te Hau Āwhiowhio o Otāngarei in Whāngarei.
I'm taking the opportunity over the next few weeks to share some of the tools I'm using in Whānau Ora research activities. The first of these tools is PATH.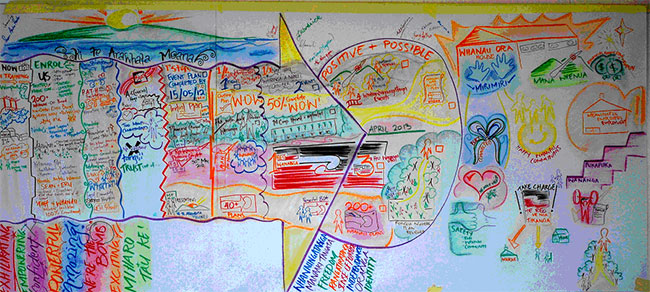 PATH (Planning Alternative Tomorrows with Hope)
In 2000 I had the privilege to visit the Ma Mawi Wi Chi Itata Centre – an Indigenous social service organisation – in Winnipeg, Canada in 2000. They were using PATH as a planning tool in their work – for planning projects, for strategic planning and in their work in community development.
PATH was developed by Jack Pearpoint and Marsha Forest, who were friends of the Centre and is based on their work in the area of person-centered planning. Very briefly, person-centered planning is an approach to supporting individuals to plan in ways that ensure that they are in charge of the direction they are going, identifies relevant support needs and services and considers any risks along the way. Inclusion Press creates person centered resource materials that include the PATH.
PATH is a creative planning tool that uses symbols and colour to map out a plan that includes dreams and aspirations, looking at proposed achievements, a reflection on values and a range of things to consider alongside an action plan. Once I'd seen it in action in the work of the Ma Mawi Wi Chi Itata Centre I was hooked, and I sought and gained permission to start using it in Aotearoa New Zealand when I returned.
PATH planning in a range of contexts
I first started using the PATH with individuals – focusing on a range of areas such as personal growth and development, career aspirations and the legacy I want to leave my mokopuna (grandchildren). I then used PATH as a strategic planning tool and worked with iwi (tribes) and organisations that were grateful for a 'different' way of doing strategic planning. The most successful PATHs in these contexts were those that brought together both Trustees and staff in a process that resulted in a shared vision and a plan that was owned by more than just a small group of people. PATH has supported marae planning and now is being extensively used as a whānau planning tool.
The meaning of imagery
As a visual planning tool, PATH enables people to imagine and then see their hopes and dreams. Graphics are used to capture aspirations and this often inspires people to move toward this place. Taking one dream and making it a reality through planning is powerful and motivates the pathfinder(s) to get on and do what needs to be done with an amazing momentum.
Often pathfinders will say, 'I had so much going on in my head, this was a great way to get it all out, look at it and reflect on the journey ahead'.
The result – a plan that is alive
In our experience, the PATH accelerates results occurring because the process inspires action. PATH encourages pathfinders to get others on board to support them on their journey and therefore the voyage is not one they have to take alone. This is not a plan to be be put away in a drawer. It is hung on a wall and is a constant point of discussion and reflection. Like any plan though, it is only as useful as the action that comes from it.
The three things I enjoy most about using PATH in my work with whānau are:
• It provides clarity and direction and hope for the future
• That for those whānau that are ready to make a change, this process, although it can be intensive provides motivation and drive to move to a better place
• The PATH tool is colourful and the use of pictures enables whānau to see their future
I wrote more about the PATH in 2010 and you can find my article in the December issue of the MAI Review Journal.
PATH Facilitator Training
The use of the PATH planning tool in the Whānau Ora context has been exciting with over 130 people trained as PATH Facilitators, six Whānau Ora Provider Collectives committed to the use of PATH and over 150 whānau plans completed.
Planning is currently underway to see PATH Facilitator training courses scheduled for 2013 and PATH resources further developed. For more information on the PATH check out our newly developed PATH Planning Tool website.