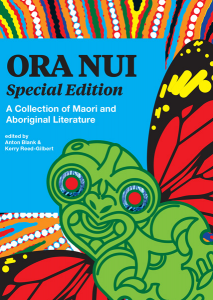 'A collaboration with the First Nations Australia Writers' Network, this special edition of Ora Nui celebrates the indigenous identities of the Antipodes.'
The second edition of New Zealand's Māori literary journal Ora Nui showcases a range of poetry, prose and short fiction from the Indigenous people of Aotearoa New Zealand and Australia.
Read new work from 50 Maori and Aboriginal writers including: Te Awhina Arahanga, Kamarra Bell-Wykes, Jacq Carter, Amber Esau, Anita Heiss, Wayne Knox, Melissa Lucashenko, Justine Murray, Kerry Reed-Gilbert, Apirana Taylor and Alexis West.
Order your copy of 'Ora Nui' at Anton Blank.
Normal
0
false
false
false
EN-NZ
X-NONE
X-NONE
/* Style Definitions */
table.MsoNormalTable
{mso-style-name:"Table Normal";
mso-tstyle-rowband-size:0;
mso-tstyle-colband-size:0;
mso-style-noshow:yes;
mso-style-priority:99;
mso-style-parent:"";
mso-padding-alt:0cm 5.4pt 0cm 5.4pt;
mso-para-margin-top:0cm;
mso-para-margin-right:0cm;
mso-para-margin-bottom:10.0pt;
mso-para-margin-left:0cm;
line-height:115%;
mso-pagination:widow-orphan;
font-size:11.0pt;
font-family:"Calibri","sans-serif";
mso-ascii-font-family:Calibri;
mso-ascii-theme-font:minor-latin;
mso-hansi-font-family:Calibri;
mso-hansi-theme-font:minor-latin;
mso-fareast-language:EN-US;}
The Journal Decolonisation: Indigeneity, Education & Society, has published indigenous poetry and short-stories which are freely accessible just click HERE