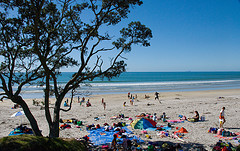 Consultation by Statistics NZ regarding proposals for content of the 2016 New Zealand General Social Survey (NZGSS) is now open.
Every two years the NZGSS interviews 8,000 people aged 15 years and over to measure the overall well-being of New Zealanders, and how people in different population groups are faring. This helps Statistics NZ analyse how different aspects of people's lives affect their well-being and social outcomes.
From 2014 the NZGSS includes a programme of rotating supplements and we are now considering the supplement topic for 2016.
Submissions close on Friday 30th May 2014.
Please tell Statistics NZ what you think
Have your say, so your comments can form part of the objectives paper we plan to produce in July 2014.
Which of the following topics is your first preference for the supplementary module content for NZGSS 2016? (For more information on these topics please read New Zealand General Social Survey 2016 consultation)

Option 1: Civic and cultural participation
Option 2: Housing and physical environment
Option 3: Other topic(s) you think we should measure in 2016

How would information from your preferred topic contribute to your work?
What aspects of this topic would be of most value?
How frequently would you need this information?
What are the population groups you need this data to identify (eg: ethnic groups, geographical areas, age groups, migrant status)?
If you have a second and/or third preference, please answer these questions for them as well.
To provide feedback and make a submission, please:
Contact the NZGSS team via 0508 525 525.

Photo credit: Phillip Capper