Ngā Pae o te Māramatanga is a centre for research excellence within Aotearoa New Zealand. Since its establishment in 2003 Ngā Pae o te Māramatanga has provided over 650 grants and scholarships for the development and advancement of Māori research excellence. These scholarships have supported students and researchers in a range of ways including: post-graduate study grants, research funding, research internships, a support hub for Māori researchers, and a relationship with Fulbright to provide assistance to Māori wishing to do post-graduate study overseas.
In a piece published through Waatea News, Veronica Tawhai from Massey University's Putahi-a-Toi School of Maori Knowledge spoke about her experiences with Ngā Pae o te Māramatanga.
"We know that Ngā Pae [o te Māramatanga] has been the main source of support for the development of research but also for the development of young people such as myself who are not only conducting research that is going to make changes immediately but are really being groomed and grown to be able to play a role as scholars, as academics, as researchers in Māori development and continue to do good quality transformative research for the rest of our careers."
At the beginning of March this year Ngā Pae o te Māramatanga learned that their application to the Tertiary Education Commission for continued funding as a Centre of Research Excellence had not been shortlisted. This decision has come as a great shock as Ngā Pae o te Māramatanga is the only Māori Centre of Research Excellence., On the 20th of March a hui (meeting) was held at Waipapa Marae, University of Auckland to discuss the cessation of Ngā Pae o te Māramatanga's funding.
Topics on the agenda were:
"The Development of the 'Māori Economy' – including the productivity of collectively owned, intergenerational land and resources, the governance and management of the institutions and organisations of Māori communities, the development of 'value generating enterprises' including businesses;
Social Transformation and Equity –including the positive reorganisation and role of our communities, addressing needs and opportunities facing Māori communities such as health and wellbeing, education, equitable distribution of wealth and power in society contributing overall to healthy and prosperous families of mana;

The Creative Potential of Matauranga Māori – including the use of matauranga Māori and Te reo Māori in new creative enterprises, its encounter with other knowledge traditions including science, and understanding and harnessing the entire 'tangata whenua continuum' from pre-Aotearoa times to the present day."(From the Ngā Pae o te Māramatanga website)
The hui was packed with people from all over the country, including many young people. All were concerned about the future of Māori research.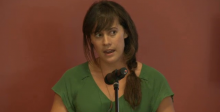 Natalie Coates, who is currently working as a lecturer at the University of Auckland, spoke about how she was able to do post-graduate studies at Harvard University thanks to a scholarship funded by Ngā Pae o te Māramatanga. Being a student and conducting research has meant a lot for her as a Māori woman and for her iwi. She said, "before you start your studies you have to go home first," thus highlighting the importance of iwi and whānau in the research decisions of Māori. She said that where she was from people were wary of the education system and of researchers because of their negative experiences with education as well as with some of research studies done on their communities. Ngā Pae o te Māramatanga has supported young Māori through their tertiary education and research development so they can work with their people in culturally responsive ways.
Other speakers at the hui included:
Board Chair, Sir Tipene O'Regan,

Professor Sir Mason Durie,

Dame Iritana Tāwhiwhirangi,

Associate Professor Leonie Pihama,

Professor Charles Royal.
Associate Professor Leonie Pihama spoke of the support that has already been shown for Ngā Pae o te Māramatanga both nationally and internationally. She highlighted the plans for the future of Ngā Pae o te Māramatanga and the action that needs to be taken to ensure these plans are realised. She reminded the audience of resistance and history,
"…our tūpuna fought for us to keep fighting, they didn't fight for us to stop and compromise. So no compromise."
You can find a summary of the hui HERE
To sign the petition in support of Ngā Pae o te Māramatanga click HERE
Contributed by Aneta Cram