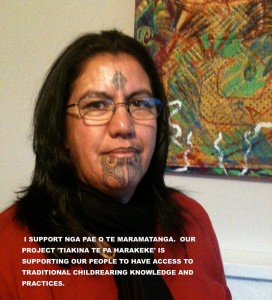 Dr Leonie Pihama wrote this analysis of the decision to discontinue funding of Ngā Pae o Te Māramatanga on Te Wharepora Hou website, on 6 March 2014. It is reprinted here with permission.
This week Iwi and Māori researchers and research organisations received notification that the Māori Centre of Research Excellence (CORE) 'Ngā Pae o Te Māramatanga' would not be funded in the next round of the National CORE funding.
The Royal Society of New Zealand states:
"The CoREs are inter-institutional research networks, with researchers working together on commonly agreed work programmes. CoREs focus on the development of human capital, so they undertake outreach activities (for example, within the wider education system). CoREs make a contribution to national development and focus on the impact of their research."
For the 2013/2014 round there are NO Māori CORE's in the final round for consideration.
There also appear to be no Māori on the selection panels. Well at least no Māori that are identifiable on the Royal Society website. Rather, with the exception of one or two people, the panels consist predominantly of Pakeha and White Australians who have no ability to assess Kaupapa Māori frameworks.
The CORE funding process is facilitated by the Royal Society of New Zealand on behalf of the Tertiary Education Commission who provide a Mission statement for CORE funding which does not include a single mention of Māori. Nor does it include any reference to Te Tiriti o Waitangi or even the lesser government position of the principles of the Treaty. There is no inclusion, no mention, no acknowledgement of anything Māori or Māori aspirations for research.
Māori research needs and aspirations have been made invisible and as of 2015 will no longer feature in the two major research funding mechanisms 1. CORE funds and 2. The National Science challenge funds.
The issue of the 'white – streaming' (to borrow a word from Dr Anne Milne) of research and research funds has been a growing issue over the past few years and has now again become entrenched as a fundamental structural and systemic act of racism. And we should be very concerned. Such acts remove the ability of whanau, hapu, iwi, Māori organisations to take control of our research agenda. The marginalisation of Māori needs and aspirations in the research sector is not new, as with Māori education we have fought for every shift in the sector. Research has been an ongoing site of struggle for over 200 years and we should not allow ourselves to go back to an 1800′s model of Pakeha research agenda's dominating and being lauded over our people.
Much cutting edged Kaupapa Māori work has been inspirational not only to us as Māori but to Indigenous Peoples globally. Professor Linda Tuhiwai Smith's publication 'Decolonising Methodologies' provided insights into the theoretical, methodological, and educational practices that we as a people have created and developed over the past 30 years. It is a motivational piece of work for thousands of people globally. We have much to fight for in terms of the current marginalisation of Māori research in Aotearoa.
Last year the National Science Challenges process led by MBIE also took a position against ensuring specific Maori input and aspirations in the process. Māori researchers were called to a meeting only after challenges were made directly within a hui called by Ngā Pae o Te Māramatanga. The meeting at MBIE was a farce. It was last minute. It was opened by the Māori MBIE staff member in a way that was demeaning of those Māori researchers that managed to make their way to Te Whanganui a Tara. We were told not to raise the Treaty as it would not be discussed. We were told that the research themes were set and would not include Māori specific research themes or questions. We were basically told to take what was given and to try to get on to one of the 'preferred provider universities' research groups.
As a result of the National Science Challenge meeting Māori researchers have struggled to have Māori research ideas, themes, questions included. In some areas there has been some movement however there is little shift in the majority of the challenges. As such a briefing paper was developed and sent to the Minister of Māori Affairs to be shared with other relevant ministers. There was no movement on the part of Steven Joyce who is – Minister for Economic Development; Minister of Science and Innovation; Minister for Tertiary Education, Skills and Employment; Minister for Small Business; Associate Minister of Finance.
Responses to the current situation need to come from a broad range of our communities in Aotearoa. The denial of any form of provision for Te Tiriti o Waitangi within these process means the denial of meaningful Māori involvement in areas that directly impact upon our people. This is not just a research funding issue. This is an issue of our rights as Indigenous People, as Treaty partners to provide research agenda's, approaches, processes that align to our needs and aspirations.
What you can do:
Taking Action: What you can do to support Ngā Pae o Te Māramatanga
Join In Support of Nga Pae o Te Maramatanga Facebook page
Watch videos from The Value and Future of Māori Research Workshop, 20 March 2014