Some interesting findings having come from Deloitte's third annual Millennial Survey.
"The questionnaire focused on the role business plays in society; its objectives, impact and outcomes; the responsibility of business and government and how well each is addressing the challenges faced by society; the potential impact of new technologies and innovation; and how businesses help people to bring out new ideas and develop their leadership skills."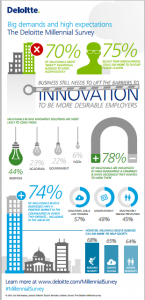 The survey shows that millennials care about making a difference and that business goals should include improving society, in addition to financial performance.
Key subjects were innovation, technology, positive impact, government doing more, business doing more and nurturing future/innovative thinkers.
Some interesting stats include:
63% of millennials donate to charities
43% actively volunteer or are a member of a community organisation
52% have signed petitions
50% of millenials want to work for a business with ethical practices
Find the Millennial Survey here.