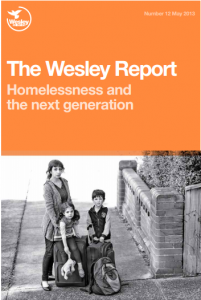 A report from Wesley Mission highlights the realities of young people and children who are affected by ongoing homelessness.
The report, Homelessness and the Next Generation, focuses on families experiencing immediate and longer-term issues relating to homelessness. The report is based on research that revealed that 27% of homeless people are under the age of 18, and 17% – or 17,845 children – were under the age of 12.
The Key Findings include:
For many, homelessness is the safer alternative (than home life)
There are long-term and generational impacts of homelessness
The value of supported accommodation goes beyond short-term comfort
This report makes a number of recommendations for action based on discussion at the policy and practice workshop in January 2013. Alongside Wesley Mission CEO Keith Garner and service staff, representatives from the following homelessness service providers participated in the workshop; Homelessness NSW, The Salvation Army, Mission Australia, The Haymarket Foundation and the NSW Department of Family and Community Services (NSW FaCS)
To access the full report, the Executive Summary and/or the recommendations, see the Wesley Mission website.