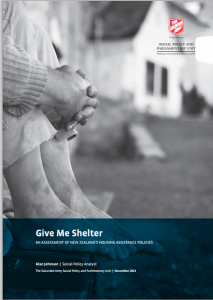 Give me shelter: An assessment of New Zealand's housing assistance policies
The Salvation Army, November 2013
This paper begins by explaining what housing subsidies are, providing an overview of housing assistance in New Zealand, looking at international examples of housing assistance.
"Housing is an important component of our wellbeing so should be seen as an important focus for our social policy. This is not the case—housing is very much a residual policy area. It is what has been referred to as the 'wobbly pillar'1 of our welfare state—the more solid pillars being our public health and public education systems, and the safety net provided by income support programmes." P8
It then reviews present social housing policy in New Zealand, providing a recent history of Housing New Zealand and talking of their plans:
"Overall the current social housing reform agenda appears to be driven by an ambition to reconfigure social housing to more efficiently deliver housing services to those who need it rather than by some broader perspective based on the longer-term role for social housing in New Zealand society" p34
Other social housing providers are discussed.
Chapter three discusses the impacts of the accommodation supplement. While, chapter four outlines further policy responses.

The report concludes with recommended next steps.
The report is available on The Salvation Army's website here.