Issues Paper 5, November 2013
Effectively involving men in preventing violence against women

Garth Baker, BA (Social Anthropology), PGDipBusAdmin (Dispute Resolution). Violence prevention researcher and programme designer.
"Engaging men and boys in violence prevention is in the interest of women and girls, but ending gender-based violence is also in the interest of the men and boys. (Carlson et al, in press)"
The paper covers:
reasons, theories and approaches for involving men
strategies for working effectively with men
engaging men
what men can do, and
some of the challenges and risks of involving men in preventing violence.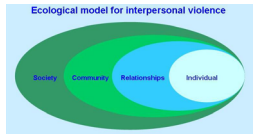 Find the paper on their website, here.
Free seminars
This presentation is based on research for a New Zealand Family Violence Clearinghouse issues paper (above) released on White Ribbon Day. Garth Baker will be doing free seminars on the paper in:
Thames – 4 December, 12 noon – 1.30 pm
RSVP to Rachel Harrison
Auckland – 5 December, 10.00 – 11.30 am
RSVP to Nicola Paton or ph: (09)923 5873 by 29 November 2013
Gisborne – 12 December, 10.00 – 11.30 am
RSVP to Tim Marshall