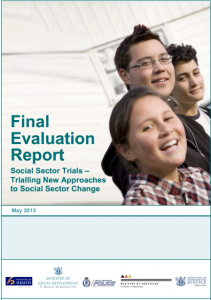 This report was prepared by the Centre for Social Research and Evaluation, Ministry of Social Development.
The Social Sector Trials were a partnership between the Ministry of Social Development, Justice, Health, Education and New Zealand Police. Focussed on 12-18 year olds, the high-level outcomes for the first six Trials are to:
• reduce truancy
• reduce offending by young people
• reduce alcohol and drug abuse by young people
• increase participation of young people in education, training or employment.
Six communities began their Trials in March 2011. 10 further Trials began in July 2013, these will run for two years.
Key achievements of the Trials:
Improved community collaboration
Increased community responsiveness to issues faced by young people
A broader base of services aimed at young people in each Trial location
Achieved outcomes for young people and the wider community
Some of the challenges included:
Barriers to collaboration during establishment
The narrow scope and focus of the Trials
Ensuring joint governance and ownership of the Trials
Multiple government initiatives and priorities causing operational confusion
Integration of funding activities
Difficulties in obtaining relevant outcome data
Find the full report here.