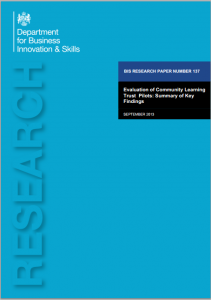 September 2013
15 community learning trust pilots were set up by the Department of Business, Innovation and Skills (UK) to test new ways of planning and delivering community learning between August 2012 and July 2013.
"Local development of Community Learning offers, with local people, organisations and providers working together to:
Shape their own community learning priorities;
Develop local strategies and partnership structures to deliver these; and
Ultimately, tailor community learning provision to meet the needs of their communities.
The learning objectives of community learning are:
Focus public funding on people who are disadvantaged
Collect fee income from people who can afford to pay
Widen participation
Develop stronger communities
Commission, deliver and support learning
They outline the key learning on p.13 including:
CLT pilot status helped revive established partnerships and supported the development of links with new partners, including voluntary and community sector organisations, Local Enterprise Partnerships, local businesses and local services.
CLT approaches, regardless of the size of the public funding allocation, can create an environment in which localism thrives to meet the needs of local people, particularly those who are most disadvantaged.
CLT pilots have begun to use their public subsidy to develop a truly community focused learning offer, but the partnerships required to deliver that offer require time to mature; it was too early to demonstrate impact.
Find the paper here