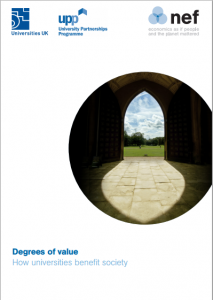 Have you ever wondered about the Social Return on Investment of universities?
A paper from the New Economics Foundation shows the social returns that universities provide:
"The public value generated from just three society-wide outcomes – greater political interest, higher interpersonal trust and better health – amount to £212 million from the 1.9 million current undergraduate students and a total of £1.31 billion for all 11.8 million graduates in the UK."
It discusses the value to society, broader benefits, the value of social mobility, the value of university community outreach and cultural enrichment programmes. It also provides conclusions and recommendations.
Find it here.