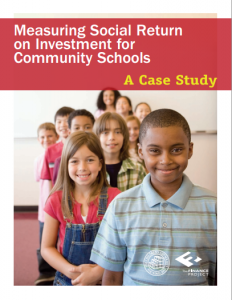 The Children's Aid Society (New York) has released a Social Return on Investment Case Study and Companion Guide for measuring the social return of community schools.
An article summarises the report saying: "In the first analysis of its kind of the community schools model, The Finance Project piloted a methodology to examine the SROI of two Children's Aidcommunity school sites in Washington Heights, P.S. 5/Ellen Lurie Elementary School and its sister site, the Salomé Ureña de Henriquez Campus (which houses grades six to 12).
The case study shows that every dollar invested in the schools over a three-year period produced a $10.30 and $14.80 return in social value respectively."
The study identifies eight primary goals for the schools, including:
Readiness to enter school,
Academic success,
Health and safety,
Family and school engagement
While community schools serve a wide range of stakeholders, the beneficiaries of the schools' activities are defined for the study as:
Infants and young children, from birth to age five;
Students;
Families;
and the school community.
Find these resources:
Measuring Social Return on Investment for Community Schools: A Case Study

Measuring Social Return on Investment for Community Schools: A Practical Guide
"provides a comprehensive, three-step guide, complete with tools and worksheets, to help community school leaders measure and communicate the social and economic value of their schools and programs."