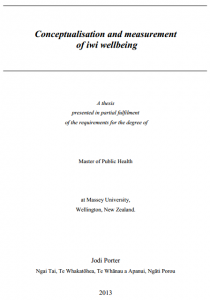 In her thesis towards a Master of Public Health, Jodi Porter asks the questions:
What constitutes wellbeing from an iwi perspective?

What are the characterisiscs of robust wellbeing indicators from an iwi perspective?
What are appropriate Māori-specific wellbeing indicators that complement existing universal indicators and are better able to gauge the state of wellbeing in iwi terms, and that may also be relevant to other Māori at the local, regional and national levels?
"This research is unique in that it is iwi-driven and has been led by Ngai Tai." p.123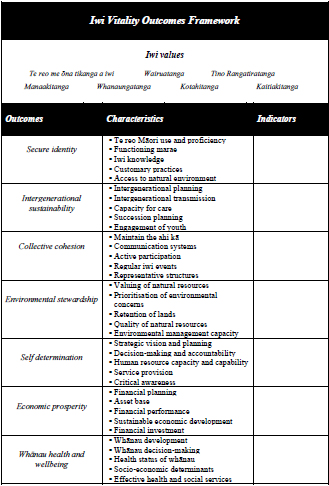 The paper explores the conceptualization and measuring of wellbeing (indigenous, Māori and iwi concepts of health and wellbeing), the measuring of iwi wellbeing (defining the characteristics and outcomes of iwi wellbeing and vitality), and presents an Iwi Vitality Outcomes Framework:



The discussion of indicator selection takes place on pp. 113-114 with four criteria to for potential indicators to be measured against:
Alignment (to vitality outcomes)
Impact (extent of impact)
Responsiveness (to intervention)
Quality (data quality)
"The development of this framework is therefore timely, in that it provides a mechanism through which iwi are able to monitor progress in a way that meets demands for accountability and evidence-based approaches, whilst maintaining a focus on the outcomes that are at the heart of iwi aspirations for collective vitality." p.124