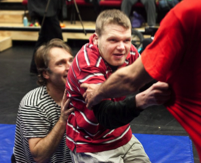 A research project looking into community circus had some surprising results.
The two primary aims of the research were to begin to quantify the impact of circus programmes, and to identify best practices to help organisations thrive.
Frances Kelliher, who initiated the research project, says the report adds real weight to the claims about community circus being a good thing.
"We've found the results add credibility to what we know," Frances says. "The final research document can be added to funding applications. It has some weight, as we're able to refer to something independent."
The research process also helped to draw out best practices in running community circus organisations. Many of these are shared with other community organisations, but there many distinct to community circuses.
One example Frances points to is best practice approaches to teaching.
"What we would love to see, after looking at international best practices, is having two teachers for each class," Frances says. "It'd be hugely valuable, as the two teachers can plan together, and then feedback at the end of a session."
The research process didn't only generate evidence and good ideas, but it brought people together.
At the outset Frances worked hard to ensure the various community circus organisations supported the idea of the project. This meant being careful to communicate that the organization initiating the research – Kumarani Circus – was initiating the research to benefit everybody in the sector.
The research comprised five interrelated methods:
A nationwide online survey of community circus related organisations and individuals.
An international literature review.
Stakeholder interviews with 17 key players nationally and internationally.
A workshop with 30 practitioners at the Auckland Circus Convention.
Four case study evaluations of disability, school, preschool and high achiever projects in Auckland and Dargaville.
"Before we began we knew people were out there, but it is quite fragmented. One of the opportunities is to have more structure and get together," Frances notes.
"It took a while to get all New Zealand groups on board, but we did. We've found the research a valuable connecting tool."
The workshop and engagement process has led to higher visibility of community circus within the wider artistic community.
People working on social circus in Europe are interested in the results. Frances is presenting at an International Seminar of Social Circus Evaluation in Finland in December 2013.
Being involved in the research process brought it's own rewards. Frances undertook stakeholder interviews herself which gave her the chance to talk in-depth with circus leaders worldwide.
Having a passionate researcher added real value to the process. Rachel Trotman, an independent researcher from Auckland, embraced a collaborative process.
"It was great to work collaboratively. Sure it takes time, but it is worth it," Frances says.
Not only did Frances and the team shape overall direction of the research, they helped out too. The skills gained will enable them to do more in the future.
While it ended up taking two years to secure funding for the project and two years to conduct all the research, Frances believes not rushing things has paid off in terms of levels of involvement and the quality of the report. Everyone is happy with it.
Frances and others in the community circus world won't be letting the report gather dust.
"There's all these passionate people, doing great work, but they don't get the support. A lot of it was about trying to show why they need it."
Research summary on the Community Research website