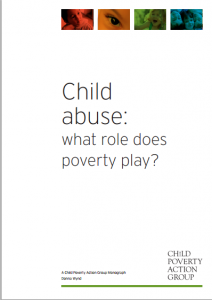 The Child Poverty Action Group has released a report exploring the role poverty plays in child abuse and neglect.
This paper explores:
The impact of child maltreatment

Factors that are associated with it
Potentially protective factors
Child abuse statistics in New Zealand
"Other consequences for victims may include an increased likelihood of smoking, obesity, high-risk sexual behaviours, unintended pregnancy, alcohol and drug use, fear, isolation, an inability to trust others, low self-esteem, depression and difficulties forming and maintaining relationships. In addition, It is estimated approximately one-third of abused and neglected children will eventually victimise their own children (Child Welfare Information Gateway, 2008a)."
The paper also explores the last 25 years of research and reports around child abuse in New Zealand:
"There is now a substantial body of New Zealand literature on children, children at risk, their families, communities and neighbourhoods, and the programmes designed to protect them. Yet for all the good intentions of those involved, little research has been incorporated into policy, and policy has been insufficiently resourced to ensure the goals could be achieved."
It also provides a table of timelines, reports and summaries with links to key New Zealand research around child maltreatment on pp 26-29
It talks about current policy responses including the Green and White papers.
Find the report here.