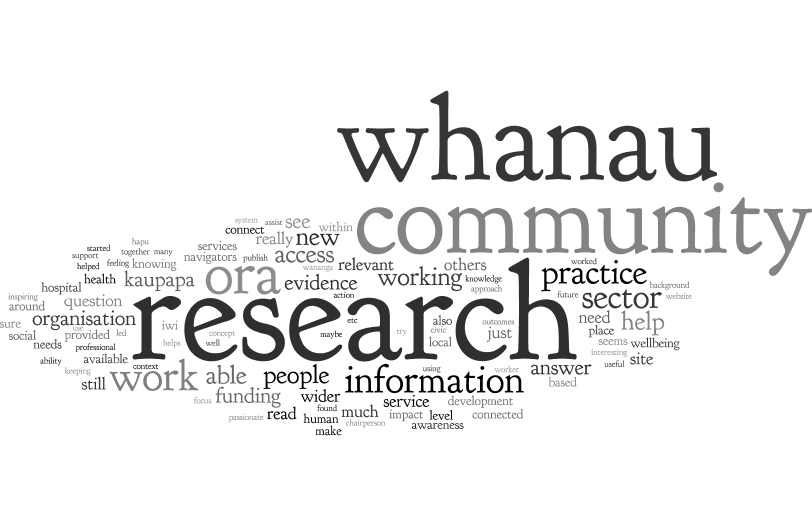 In January 2015, Community Research undertook an online user survey. We asked: what has been the most significant impact of Community Research/Whānau Ora Research on you or your organisation?
Our users told us:
Provided with knowledge to inform strategic thinking and ideas
A central place to post our research and kaupapa, build strategic relationship around thinking, insights, contacts, possibilities with regard to community-led activity and research.
A place for sharing our knowledge and research
Awareness of New Zealand research that I hadn't found in other ways. The ability to search on both directories is really useful.
Knowledge of community sector
As a member of the Auckland City Council Seniors Panel I'm keen to stay abreast of evolving stories in the community research sector in Aotearoa.
Professional skills-development, for improvement
Webinars and the access to specialist knowledge to support my 'practice' and the connection.
It has helped me up-skill on Collective Impact and provided a local context for this. There are still limited examples of NZ-based successful endeavours
Inspiration, validation and hope
Being able to see my work in the context of the broader community sector has been validating and inspiring
More knowledgable about Whānau Ora, to inform delivery
The information that has been available and given has assisted not only navigators but others working at the different levels when interacting with whānau, hapu and iwi, providers collectives and others.
Better standard-setting and knowledge of effective models
For me – its keeping up with the development/ implementation of Whānau Ora delivery within organisations, for improved health and wellbeing for whānau, hapu, iwi and the wider community. ..How that looks like in practice, action, written work and in discussion.
Evidence to prove the value of Whānau Ora & to defend my work
My Manager asked for evidence to show that I and my service were whānau ora competent, knowledgeable about whānau ora specific to local, and national priorities. Once I started to read this information, .. able to answer my managers question with evidence.'
Still having to prove to tauiwi organisations
Hope and encouragement that Whānau Ora offers a way forward
I am a new researcher. I move confidently forward knowing this community is here. Tino harikoa taku ngākau . I am not alone

Read the whole report here