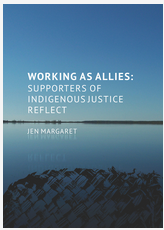 In Working as allies non-indigenous supporters of indigenous justice in Australia and Aotearoa New Zealand discuss their practice.
Through in-depth interviews they candidly share the challenges of this work and their responses to these. They reflect on what led them to become involved in indigenous justice issues, what informs their approach and how they know if their work is useful.
The principles discussed, and the inclusion of resources based on research in North America, make this book relevant across a range of social justice areas. Working as allies offers inspiration, insight, guidance and practical ideas to anyone with a passion for social justice.
This book is available now and can be purchased online here.
"Working as allies will be of considerable value to all who work with Māori and other indigenous peoples in the social services, health sectors, education, police and justice." Rachael Selby, Chair, Winston Churchill Memorial Trust
The AWEA website also provides resources that explore the role of non-indigenous supporters of indigenous justice struggles. They have been generated through discussions with people active as allies in North America, Australia and here in Aotearoa. Including:
The Wave : A Good Practice Guide
" an easy to deliver tool to facilitate learning when either the characteristics of learners or the subject matter may generate resistance"
Thoughts on social justice
Visit the website here.