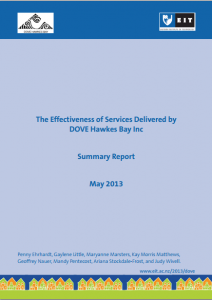 The DOVE Research Project came about after discussions between family violence intervention service, DOVE Hawkes Bay (DOVE) and the Eastern Institute of Technology (EIT) about the high levels of family violence in Hawke's Bay. New Zealand has made international commitments under the Convention on the Elimination of All Forms of Discrimination Against Women to secure equality for women, including addressing the high prevalence of violence against women (Fenrich & Contesse &, 2008).
Nationally, it is estimated that one in three women has been the victim of family violence (Fenrich & Contesse, 2008). The Eastern Police District (which included Hawke's Bay) has higher than average rates for call-outs to offences relating to family violence (New Zealand Police, 2011).
The World Health Organisation's framework for developing policies and programmes to address family violence acknowledges that the harm caused by family violence can last a lifetime and span generations. To address this, data-driven and evidence based primary prevention programmes are recommended (Garcia-Moreno & Mikton, 2010).
Yet despite New Zealand's, generally sound legislative framework for dealing with family violence, there has been a lack of evaluation of the effectiveness of programmes and services (Fenrich & Contesse, 2008).
DOVE and EIT wanted to address this by examining the efficacy of family violence prevention services run for men, women and youth in Hawke's Bay. In particular, we were interested in whether the services run by DOVE were resulting in long-lasting positive changes for individuals, families and whānau.
"The research revealed that many male and female clients were grappling with issues that complicated attempts to become free of family violence, including high levels of past trauma. Alcohol and other drug issues were often linked to family violence, and the desire to be free of alcohol, drugs and violence is expressed as a single concept."
The project was funded by a New Zealand Lotteries Commission Research Grant. The research focuses particularly on the six months 1 July – 31 December 2011.
Find the full report here.
Find the summary report here.