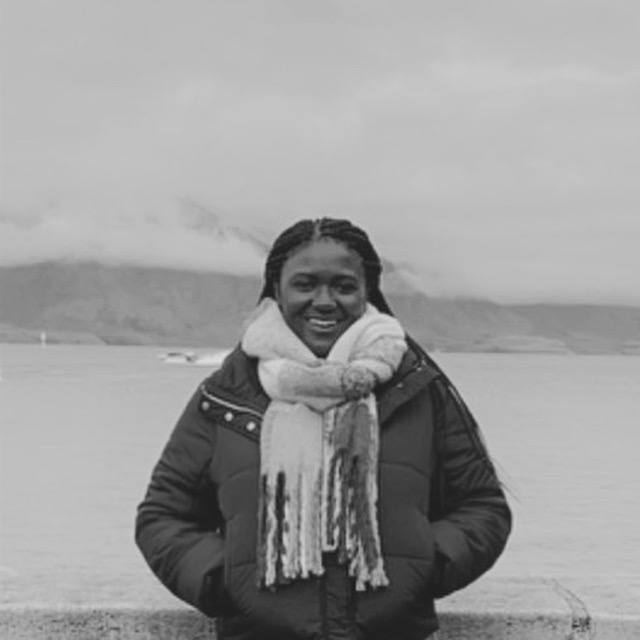 Tell us about you and your research?
I am an open-minded, resilient and cultured woman. Because I was born and raised in east Africa, then moved to Aotearoa during my early teens, my identity is a mixture of African and Kiwi traditions and values. In terms of research, I specialise in conflict and conflict resolution, social causes, and international relations/affairs all-encompassing.
What would be important for you to see as an outcome of your work?
It would be vital to see the impact of my mahi actually making a difference in people's and communities' wellbeing – to see people connected and supported so that they can thrive as individuals and the communities around them. It would be fulfilling not to only foster mechanisms that provide resources that create and enhance equity and community-led ideas and aspirations, but also see the people/communities celebrating the successes.
There's a time to sit around and theorise and a time to do -from your perspective what does that look to you?
Setting time aside to reflect is important to weigh the content and the value of the work. To sit down with different people (of various ethnicity, religion, gender, race, life experiences, etc) and put everything on the table, to discuss, to celebrate each other's' accomplishments, and to address difficult societal topics in an open and supportive environment. By having tough and unpleasant discussions in a meaningful manner, we can then start the healing or recovery process – by proposing thorough and far-reaching long-term solutions – which will then specify actions that needs to be taken at what level (personal, community, national/government, and transnational).
How have you have come to know the principles of Te Tiriti and the impacts that has on your understanding of Aotearoa?
I learnt of the principles of Te Tiriti o Waitangi through a generic paper during my post-graduate studies. I was very surprised and disappointed to know that there were two separate treaties not just the English and te reo Māori version. Although I did New Zealand history in year 13, and a couple undergraduate papers that focused on Aotearoa, there was a repetitive emphasise on the differences and difficulties of the translation of the treaty. In 2019 when a did a Māori paper, I was able to learn a bit of te reo Māori, whakapapa, mātauranga Māori, and Te Tiriti o Waitangi. Gaining such knowledge really humbled me, and made me question how much I really know despite the education I have acquired over the years. Knowing of Te Tiriti, I was able to start the journey of honouring it by ensuring people (particularly whānau Māori) gain access to vital information that fosters whānau and community-led support and development.
When you think about the work you as an individual want to achieve – what do you feel is the most important future focus?
It is important for people, organisations, businesses and government departments to be more intentional in their mahi. To move away from just 'ticking a box' or an item on a to-do list, and embrace prolonging procedures that rigorously tackles pre-existing and emerging concerns or issues, including but not limited to homelessness, poverty, intergenerational incarceration, mental wellbeing, structural injustices, and climate change.
Thank you so much for your time and kōrero Sincere, ngā mihi.
If you would like to read more about more wonderful researchers go here or join our database go here