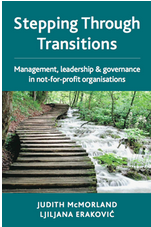 Stepping Through Transitions: management, leadership and governance in not-for-profit organisations is a richly illustrated research-based study of organisational development in NZ organisations.
The research showed that many very well meaning organisations failed in their mission because of lack of understanding about the dynamics of organisational development. This book addresses this particular need.
The CGO Development model is clearly explained and easily applied (and help is available if it isn't!)
To purchase the book, click here.
If you are interested in their workshops for 2014, click here.
For more about the authors: Dr Judith McMorland and Dr Ljiljana Eraković, click here.