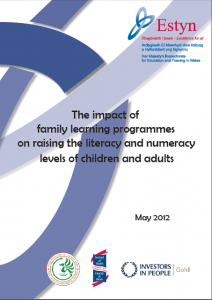 Some Welsh research around schools, education, work with families and literacy:
'The Impact of Family Learning' (2012) from Wales. It cites a wide variety of publications, surveys and reports which document the importance of family programmes and the positive impact that these can have on improving the standards children achieve in schools. It considers the extent to which the programmes provide value for money and provides a wide variety of recommendations.
A recent enquiry by NIACE, 'Work, Society and Lifelong Literacy: Report of the inquiry into adult literacy in Engalnd' (2011) finds that schools on their own cannot address the multiple disadvantages faced by many families.
In the Ofsted report, 'Family Learning: An Evaluation of the Benefits of Family Learning for Participants, their Families and the Wider Community' (2009) inspectors found that family programmes have a significant impact on the behaviour of children. Children have better communication skills, settle better in class and have an improved relationship with teachers and other children.
"school leaders do not usually co-ordinate multi-agency working systematically enough to ensure that disadvantaged learners are supported in the most effective and timely way."
The Estyn report, 'Tackling Poverty and Disadvantage in Schools' (2011) describes how pupils achieve higher results and are more likely to succeed when parents, community and other services are involved in their education and provide them with learning support. It provides recommendations for schools, local authorities and the government.
The Estyn.gov.uk website provides a wealth of thematic reports, click here to find the list with some very recent reports available.