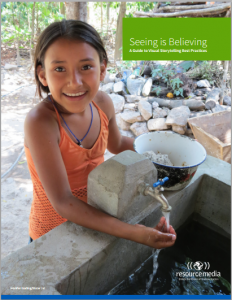 The Visual Story Lab is a project of Resource Media, it exists to show people why social change matters.
"Science shows us that our brains are wired to respond first to visual input. Images are the pathway to human emotions, and emotions govern how people make decisions."
Seeing is Believing, Resource Media's new best practices guide on visual storytelling, gives you the latest research and tools to address this communications blind spot.
This paper outlines three principles of visual communications, seven rules of the road (including examples of best and worst practice) and a checklist for integrating visuals into communications plans.
They also invite you to share your own success stories, best practices, questions and lessons learned. To create a learning community that will make us all more adept at tapping the power of pictures. Drop them a line at vizcom@resource-media.org.
If you are interested in using media for storytelling you can follow their blog.
Find the guide here.