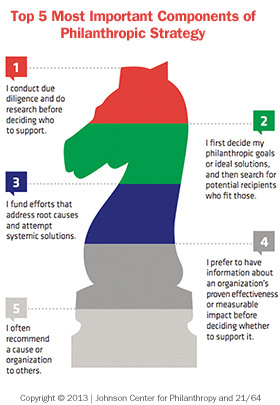 The next generations of major philanthropists, who fit into "Gen X" (born 1964-1980) or "Gen Y/Millennial" (born 1981-2000) generational cohorts, will wield more philanthropic power than any previous generation. With an unprecedented amount of wealth, these donors hold the future of philanthropy in their hands, yet, until now, there has been little previous research on the powerful but very private group of young people who stand to become the major donors of the future.
There were four key findings:
1. Driven by Values, Not Valuables
"Yet while they feel a commitment to philanthropy that comes from the past, they plan to meet that commitment in somewhat different ways in the future. Most of all, they are ready to be donors – and all that the term entails – now."
2. Impact First
"They want impact they can see, and they want to know that their own involvement has contributed to that impact. They want to use any necessary strategies, assets, and tools – new or old – for greater impact."
3. Time, Talent, Treasure, and Ties
"Giving without significant, hands-on engagement feels to them like a hollow investment with little assurance of impact."
4. Crafting Their Philanthropic Identities
"Rather than waiting until the sunset of their lives to decide who they are as philanthropists and what legacies they want to leave, these next gen major donors actively craft their identities now and actively think about their own legacies."
This website is the home of this piece of research – and it is a pretty impressive site.
What are your thoughts on the findings? How do you think charities can incorporate these findings and recommendations into their schedule of donor activities?