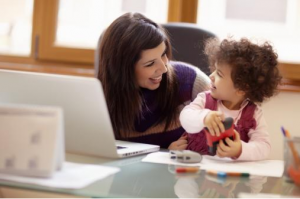 Potentially controversial research has been released in the US about the effects of mothers returning to work during the first two years of their child's life.
The findings come from long-term follow-ups of a representative sample of 2,400 low-income children and their mothers in three US cities: Boston, Massachusetts; Chicago, Illinois; and San Antonio, Texas.
"Families living below the poverty line were able to gain from mothers returning to work, in that they reduced financial strain and provided greater food security."
From research: Coley, R.L, & C.M. Lombardi. (2013). Does Maternal Employment Following Childbirth Support or Inhibit Low-Income Children's Long-Term Development?Child Development, 84(1), 178–197. You can find it here – please note there is only an abstract available for free-viewing.
Find the article, In low-income, minority families, babies may benefit from mothers returning to work early (12 June 2013) here.
here.