"Independence is particularly important for Pacific people with disabilities, who, while valuing their important relationships with family caregivers, also want to be able to participate independently in society" (Ministry of Health, 2010, p.4).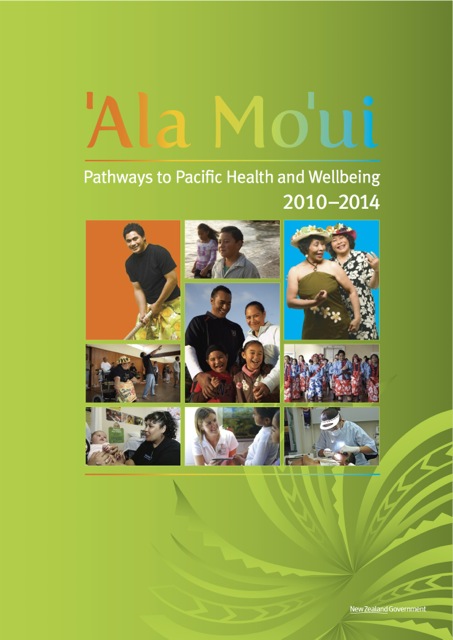 In 2010 the Ministry of Health and the Ministry of Pacific Island Affairs published their strategic plan for the health of Pacific peoples, 'Ala Mo'ui: Pathways to Pacific Health and Wellbeing 2010-2014. The plan talks about health and disability, with disability coming to the fore in priority outcome 4 with the recognition that disability support services for Pacific people should be delivered locally in the community and in primary care.
"The Ministry of Health will support regional Pacific disability initiatives that provide easier access to housing, education, health and welfare support for Pacific people with disability and their families" (p.14).
This support includes intersectoral and interagency collaboration, including collaborations between Pacific providers and other health and disability provider organisations, and Pacific provider development.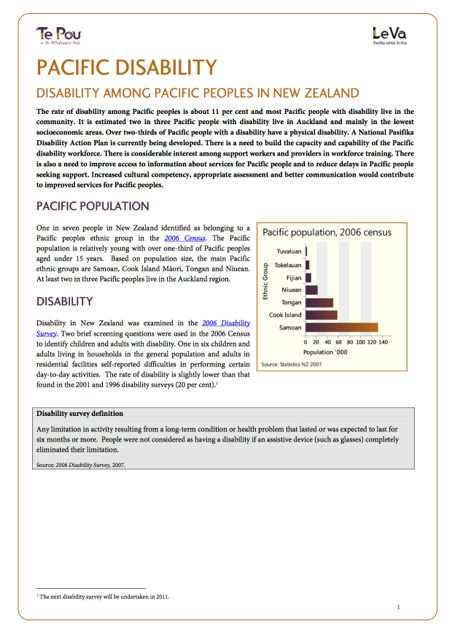 An overview of disability among Pacific peoples in New Zealand has been developed by Le Va Pasifika within Te Pou. The information in the overview is summarised on the Le Va webpages:
Around 25,000 Pacific people with disabilities live in New Zealand.
Pacific people continue to be low users of disability support services compared to the general New Zealand population.
There is a lack of culturally responsive and appropriate disability services.
Accessible information about available supports and Pacific cultural views of disabilities are barriers that continue to prevent Pacific people from using disability support services.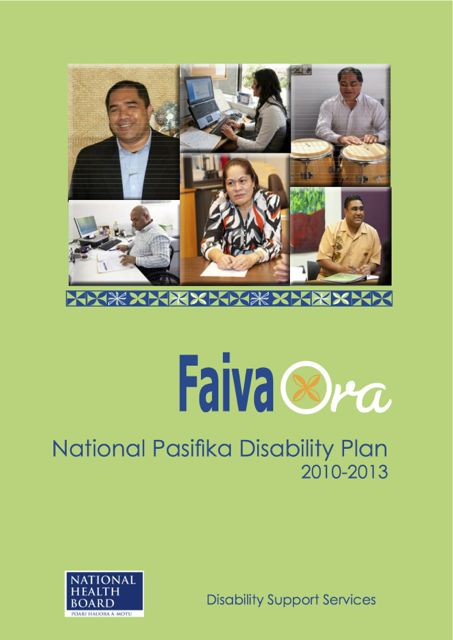 Faiva Ora: National Pasifika Disability Plan 2010-2013 was published in 2010 by the Ministry of Health. It is aligned with 'Ala Mo'ui. The implementation of Faiva Ora is guided by several values and principles:
"Understanding Pacific disability need – Pacific disabled peoples are understood in the context of their disability, family, community and cultural preferences and are the centre of service planning and delivery.
Improving disability outcomes – Pacific disabled people receive quality supports that are culturally appropriate, useful and effective, and which enable them to fully participate in their lives.
Respecting Pacific culture – Pacific peoples' connectedness to their family and communities is enabled, and Pacific ways of doing things respected.
Valuing family – Pacific families and their special role in Pacific culture and community are respected, valued and supported.
Working together – Pacific peoples are supported through a holistic approach which includes Pacific communities working together with the shared vision of government sectors and non-government sectors" (p.3).
Faiva Ora sets out four priority outcomes:
Pacific disability workforce capability and supply meets demand
Disability system and services meet the needs of Pacific disabled peoples and their families
More services delivered locally in the community
Pacific disabled peoples and their families are better supported to live inclusive lives