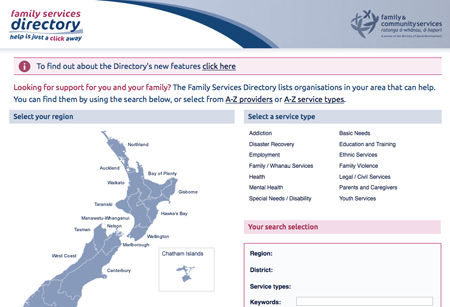 The Ministry for Social Development (MSD) has listed an Expression of Interest (EOI) on the Government Electronic Tenders Service (GETS) to identify and assess suppliers (individuals/organisations) to deliver capability mentoring services to MSD funded organisations.
The EOI (GETS Reference: 38477) seeks applications from potential providers of capability mentoring services from across New Zealand. Applications from collectives, collaborations and consortia looking to utilise their collective capability are also encouraged to apply.
Suitable Capability Mentors will be registered on the MSD Capability Mentors Qualified Supplier List (the List). The List will be published on the Family and Community Services Directory at: http://www.familyservices.govt.nz/directory/
Applications for registering on MSD's Qualified Supplier List for Capability Mentors remain open throughout the life of the Capability Investment Resource (2012 – 2016) i.e. after the EOI closes.
Background
In June 2012, the Minister for Social Development introduced the Investing in Services for Outcomes (ISO) approach. As part of ISO, the Ministry has developed an Organisational Capability Framework that aims to support a stronger, adaptable and more integrated social service sector.
ISO Capability Framework
The ISO Capability Framework includes three elements:
1. Organisational Capability Self-Assessment Tool
The tool identifies good practice elements for 10 organisational capabilities characteristic of strong and sustainable organisations. The first release has been designed specifically for MSD-funded organisations that are just beginning an organisational capability assessment and strengthening programme. Over time it is envisaged that the tool will evolve to meet the changing needs of the social sector.
2. Capability Investment Resource (CIR)
The CIR will inject $31.65 million over four years into supporting the social sector to work in even stronger, more flexible, results-focused, innovative and integrated ways. During the lifetime of the CIR the focus will shift toward supporting collective impact in recognition that large-scale social development will come from improving cross-sector coordination and sharing a collective vision, rather than isolated interventions from individual organisations. However, the first distribution of the CIR is focused on organisations starting on an organisational capability development journey.
3. Capability Mentors
Capability Mentors are people with proven skills and experience in supporting and coaching community organisations to develop the organisational capabilities characteristic of strong, adaptable and integrated organisations. Capability Mentors from MSD's Capability Mentor Qualified Supplier List will work alongside organisations receiving support from the CIR to support organisational capability development aligned with the ISO approach
GETS Reference: 38477 – MSD Qualified Supplier List: Capability Mentors
For more information see:
ISO main page
Organisational Capability framework
Capability Investment Resource
Ideas Bank
Contributed by Nan Wehipeihana